Main content starts here, tab to start navigating
Our belove

d Bang Chop Thai will be closed until further notice.
Please visit our Saigon Sisters restaurants nearby for
tasty Vietnamese food while we are figuring out
how to make Thai food available soon at the restaurant.
But we will still offer Thai food for catering.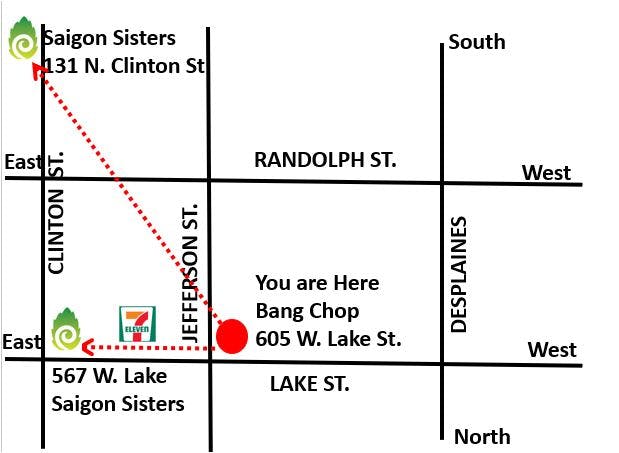 Wok Charred Rice & Noodle
Holy Thai Basil Chicken (Halal) or Tofu (V) W/ Jasmine Rice | Pad Gra Pao

Oyster sauce, bell pepper, Thai Basil, Thai Chili, onions, garlic, Sunny Side Egg (optional)

$10.50

Bang Chop Fried Rice | Khao Pad Goong

Choice of Chicken (Halal), Beef (+2), Shrimp (+3) GF or Tofu V | Shrimp paste, cilantro, fish sauce, long bean, garlic, chili, egg, onions, beansprouts

$9.75

Krabi Pad Thai | Pat Thai

Choice of Chicken (Halal), Beef (+2), Shrimp (+3) GF or Tofu V | Rice noodle, tamarind, garlic chive, radish, bean sprout, egg, peanut, fish sauce, chili flakes

$10.25

Drunken Noodles Pad See Ew | Pat Sii Uuu

Choice of Chicken (Halal) , Beef (+2), Shrimp (+3) or Tofu V | Chow fun wide rice noodle, dark soy, Chinese broccoli, garlic, egg, fish sauce,oyster sauce, tomato, chilis

$11
Drinks
Thai Iced Tea

Milk & Thai tea

$3.50

Thai Iced Coffee

Milk & Thai coffeee

$3.50

Mango Sweet Sticky Rice

$5

Soft Drinks

Coke, Diet Coke, Sprite

$1.80

Bottled Water

$1.80

Pellegrino

Sparkling Water

$3

Nirvana Coconut Water

$2.50

Honest Tea

$3
Soups & Curry
Tom Yum (GF) | Tom Yam Nam Sai

Choice of Shrimp(+3) or Chicken (Halal) | Mushroom, tomato, tamarind, lemongrass, galangal, kaffir lime, fish sauce, onions, cabbage

$8.50

Add Rice Noodles $2.50

Tom Kha (Coconut Broth) (GF) Tom Khaa

Choice of Chicken (Halal) or Mushrooms V | Coconut milk, lemongrass, galangal, kaffir lime, cilantro, fish sauce, onions, mushrooms, cabbage

$8.25

Add Rice Noodles $2

Green Curry W/ Jasmine Rice (GF) | Geang Keow Wan

Choice of Chicken (Halal) Pork, Tofu, Beef | House made curry paste, Thai basil, Thai eggplant, bamboo, kaffir lime, fish sauce, onions, green beans, bell peppers, shrimp paste

$9
Snacks & Sides
Bang Chop Fried Chicken Wings (GF)

Thai spiced marinade, caramelized fish sauce

$9.50

Crispy Egg Rolls

Meat or Vegetarian V

$6

Papaya Salad Traditional or Vegetarian

Green papaya, tomatoes, green beans, garlic, fish sauce, lime, sugar, peanuts

$7.50

Jasmine Rice

$2.50

Sticky Rice

$3

Chinese Broccoli with rice

stir fry broccoli, oyster sauce, garlic, add meats for extra charge

$8